The Hotel Club Kawama mixes the charms of the most beautiful Caribbean beach with the Cuban history and tradition. Due to its colonial hacienda shape, the building recreates life in the old Spanish colonies. The lobby area with its stone arcs and walls has a resemblance with the houses of wealthy Cuban families in the XIX century. The rooms are picturesque houses and bungalows spread through a colorful garden alongside a privileged beach line.
Located at the center of Varadero and 20 minutes away from the international airport, the hotel allows an easy access to a wide range of options waiting for the visitor. Very close you'll find the handicraft art market and the most popular restaurants specialized in Cuban and international cuisine.
The hotel uses the "all inclusive" system and has 490 confortable rooms and 35 isolated installations offering a feeling of freedom, peace and intimacy for the complete enjoyment of Varadero's natural beauties.
During your stay at the hotel you will enjoy a wide, diurnal and nocturnal, recreational program and you can choose among 4 swimming pools, 7 bars or the practice of non-motorized aquatic sports like kayaks, windsurfing, aquatic bicycles, snorkeling and sailboarding.
Opened in

1930

Renovated in

2000
Hours and Conditions
Check in

16:00 Hrs

Check out

12:00 Hrs

Conditions

Cancellation and penalties policy: For cancellations that are made with 3 days or less, before the arrival of the clients, the penalty of the price of 1 night applies. This right will also apply to "No Shows" The entire stay is billed for short stays or early departures. In the case of applying a refund to the customer, the financial expenses associated with it, generally corresponding to 4.5% of the total value, will be deducted from the same.
Internal map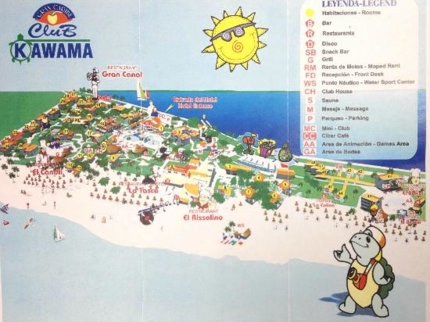 Services and Facilities
($) Services with additional charge
COLONIAL Standard Room

(View room facilities)

Standard Room

279 rooms

(View room facilities)

2 Armchairs
Air Conditioning
Amenities in the bathroom
Balcony or Terrace
Bathroom with bath/shower
Bedroom
Bedside tables
Closet
Coffee tables
Cradle (on request)
Electricity:110 V/60 Hz
Furnishings in the Balcony
Garden views
King-size or twin beds
Mini-refrigerator
Pool views
Bedside lamp
TV with remote control
Rooms cleaned daily
Safe- deposit box $
Satellite TV
Sea views
Telephone
TV-minibar table

×

---

Dining conditions

A variety of atmospheres and culinary options.
The menus and times of the restaurants and bars may be subject to change depending on the season and hotel occupancy.
Non-smoking areas.
Reservations and dress code (formal) for dinner in the specialist restaurants.
Wines at lunch and dinner.
Unlimited alcoholic and non-alcoholic beverages.
Diet and vegetarian dishes (on request).
Live entertainment at some restaurants.