Opened in

2002

Renovated in

2010

4 rooms for guests with disabilities
Hours and Conditions
Check in

16:00 Hrs

Check out

12:00 Hrs

Conditions

Cancellation policy and penalties: For cancellations made 2 days or less before the arrival of clients: 1 night of penalty for Booking. For the "No Shows" and early departures, the entire stay is also billed. In the case of applying a refund to the customer, the financial expenses associated with it, generally corresponding to 4.5% of the total value, will be deducted from the same.
Internal map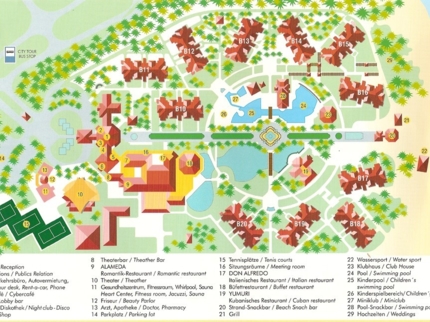 Services and Facilities
($) Services with additional charge
Doble Vista Piscina

(View room facilities)

Suite Room

(View room facilities)

Friends Connected

(View room facilities)

Doble Tropical

1 room

65 m2 (View room facilities)

Doble Superior room

1 room

65 m2 (View room facilities)

Doble

391 rooms

32 m2 (View room facilities)

1 two-seater sofa
Air Conditioning
Clock Radio
Amenities in the bathroom
Balcony or Terrace
Bathroom with bath/shower
Bedroom
Bedside tables
Closet
Coffee and Tea Maker
Combined Living-bedroom
Cradle (on request)
Direct phone line
Electricity: 220 V/60 Hz
Extra bed (on request)
Handicapped facilities
Furnishings in the Balcony
Garden views
Hairdryer
Iron and board
King-size or twin beds
Magnifying mirror
Minibar (restocked daily)
Non-smoking rooms
Pool views
Bedside lamp
TV with remote control
Rooms cleaned daily
Satellite TV
TV-minibar table

×

---

Dining conditions

A variety of atmospheres and culinary options.
Opening and closing times may be subject to change (prior notice given).
Booking in advance and dress code required for dinners at specialized restaurants.
All meals (including 1 Buffet, 3 a la carte restaurants and snacks) are free.
Unlimited alcoholic and non-alcoholic beverages. (including some premium brands)
Choice of cocktails.
Snacks during the whole day.
Diet and vegetarian dishes (on request).
Live entertainment at some restaurants.
Continental breakfast and tea time service.