The Meliá Cayo Coco is located in Jardines del Rey archipelago in Ciego de Ávila, connected to the mainland by a stone vial over the sea. It is a spectacular all-inclusive, specially designed for adults over 18 who seek relaxation in a heavenly place, and comfort of this giant 5 Stars. Conceived in front of an extraordinary virgin beach where abound palm trees, coconut trees and pink flamingos, Meliá Cayo Coco is surrounded by clear waters and beautiful corals.
Distinguished for the elegance of its spaces, this hotel offers luxurious rooms accompanied by exclusive services and bungalows built on a marine natural lagoon. All have great views of a magical and seductive landscape of limitless beauty. The decor is a gift, as its clean and bright colors, combined with a modern luxury furnishings ensure a pleasant stay and rest.
The sea and clear water make this site a perfect place for diving and fishing. Also is very attractive the billiards and the restaurant on the lake, where you can contemplate beautiful sunsets. Melia Cayo Coco will also give you romantic evenings in the piano bar and music bar, and funny shows and nightly entertainment. During the day, guests have variety facilities such as jacuzzis, massages, sauna and gym; and they can practice non-motorized watersports.
For the elegance, tranquility and privacy of its spaces, the Melia Cayo Coco is recommended for honeymoons, as well as retirement place and relaxation for a couple. For the breadth and richness of its saloons, is also ideal for weddings and meetings
Opened in

1999

Renovated in

2011

2 rooms for guests with disabilities
Hours and Conditions
Check in

16:00 Hrs

Check out

12:00 Hrs

Conditions

Cancellation and penalties policy: For cancellations that are made with 4 days or less, before the arrival of the clients, the penalty of the 50% of the entire stay applies. This right will also apply to "No Shows" The entire stay is billed for short stays or early departures. In the case of applying a refund to the customer, the financial expenses associated with it, generally corresponding to 4.5% of the total value, will be deducted from the same.
Internal map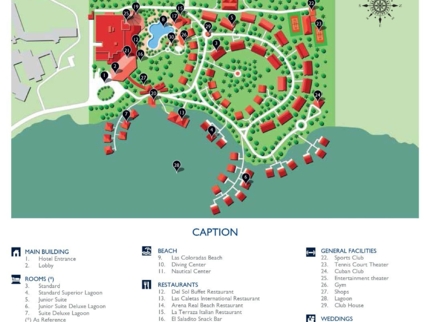 Services and Facilities
($) Services with additional charge
Junior Suite Room

6 rooms

45 m2 (View room facilities)

1 two-seater sofa
2-seater sofa
Air Conditioning
Amenities in the bathroom
Armchairs
Bathroom with bath/shower
Bedroom
Bedside tables
Blackout drapes
CD Player
Coffee and Tea Maker
Coffee tables
Daily coffee service
Direct-dial telephone in bedroom
Dressing closet
Electricity: 220 V/60 Hz
Extra bed (on request)
Garden views
Hairdryer
Hot / Cold water (24 hours)
Iron and board
King Size Bed
Living area
Lounge-bedroom
Minibar (restocked daily)
Bedside lamp
TV with remote control
Rooms cleaned daily
Satellite TV
Terrace
TV-minibar table
Umbrellas

×

LAGOON VIEW GRAND SUITE Room

12 rooms

55 m2 (View room facilities)

1 two-seater sofa
2 connecting spaces
2-seater sofa
Air Conditioning
Armchairs
Balcony or Terrace
Bathrobe and slippers
Bathroom with bath/shower
Towels for beach/pool in room
Bedroom
Bedside tables
Blackout drapes
CD Player
Check-out facilities
Coffee and Tea Maker
Daily coffee service
Dining room
Direct-dial telephone in bedroom
Dressing closet
Electricity: 220 V/60 Hz
Extra bed (on request)
Farewell gift
Furnishings in the Balcony
Guests welcomed by a manager
Hairdryer
Hot / Cold water (24 hours)
Iron and board
King Size Bed
Lagoon views
Late check-out to 16.00 hrs
Living room
Lounge-bedroom
Loungers on the terrace
Luxury postcard
Luxury welcome cocktail
Minibar (restocked daily)
Personalised check-in
Bedside lamp
TV with remote control
Reservations in à la carte restaurants
Romantic décor
Rooms cleaned daily
Special service in your stay
Superior category bathroom
Terrace
TV-minibar table
Umbrellas
VIP amenities(bath salts/candles)
VIP breakfast in restaurant Las Caletas
VIP daily turndown service
VIP gifts
VIP gifts the day of departure
Wi-Fi connection

×

CLASSIC Room

168 rooms

32 m2 (View room facilities)

Air Conditioning
Amenities in the bathroom
Armchairs
Balcony or Terrace
Bathroom with bath/shower
Bedroom
Bedside tables
Blackout drapes
CD Player
Coffee and Tea Maker
Connecting rooms
Daily coffee service
Direct-dial telephone in bedroom
Dressing closet
Electricity: 220 V/60 Hz
Extra bed (on request)
Furnishings in the Balcony
Garden views
Hairdryer
Hot / Cold water (24 hours)
Iron and board
King-size or twin beds
Minibar (restocked daily)
Non-smoking rooms
Bedside lamp
TV with remote control
Romantic décor
Rooms cleaned daily
Satellite TV
TV-minibar table
Umbrellas

×

LAGOON VIEW GRAND PREMIUM Room

62 rooms

32 m2 (View room facilities)

Air Conditioning
Amenities in the bathroom
Armchairs
Bathroom with bath/shower
Bedroom
Bedside tables
Blackout drapes
CD Player
Coffee and Tea Maker
Daily coffee service
Direct-dial telephone in bedroom
Dressing closet
Electricity: 220 V/60 Hz
Extra bed (on request)
Hairdryer
Hot / Cold water (24 hours)
Iron and board
King-size or twin beds
Lagoon views
Loungers on the terrace
Minibar (restocked daily)
Non-smoking rooms
Bedside lamp
TV with remote control
Romantic décor
Rooms cleaned daily
Terrace
TV-minibar table
Umbrellas
VIP package gifts

×

DELUXE LAGOON Junior Suite Room

2 rooms

45 m2 (View room facilities)

Air Conditioning
Armchairs
Bathrobe and slippers
Bathroom with bath/shower
Towels for beach/pool in room
Bedroom
Bedside tables
Blackout drapes
CD Player
Check-out facilities
Coffee and Tea Maker
Coffee tables
Daily coffee service
Direct-dial telephone in bedroom
Dressing closet
Electricity:110 V/60 Hz
Electricity: 220 V/60 Hz
Extra bed (on request)
Farewell gift
Guests welcomed by a manager
Hairdryer
Hot / Cold water (24 hours)
Iron and board
King Size Bed
Lagoon views
Late check-out to 16.00 hrs
Lounge-dining room
Loungers on the terrace
Luxury postcard
Luxury welcome cocktail
Minibar (restocked daily)
Personalised check-in
Bedside lamp
TV with remote control
Reservations in à la carte restaurants
Romantic décor
Rooms cleaned daily
Special service in your stay
Superior category bathroom
Terrace
TV-minibar table
Umbrellas
VIP amenities(bath salts/candles)
VIP breakfast in restaurant Las Caletas
VIP daily turndown service
VIP gifts
VIP gifts the day of departure

×

---

Dining conditions

A variety of atmospheres and culinary options.
Unlimited alcoholic and non-alcoholic beverages.
The menus and times of the restaurants and bars may be subject to change depending on the season and hotel occupancy.
Non-smoking areas.
Reservations and dress code (formal) for dinner in the specialist restaurants.
Wine served at lunch and dinner.
Day around at Meliá Cuba hotels on Cayo Coco and Cayo Guillermo.
Diet and vegetarian dishes (on request).
Live entertainment at some restaurants.
Continental breakfast and tea time service.

2014 - TripAdvisor: Certificate of Excellence.
Award for the hotel's hospitality and popularity on the world's largest travel website, granted for achieving the highest score from its clients on a regular basis.

---

2014 - HolidayCheck: HolidayCheck Quality Selection.
The HolidayCheck Quality Selection 2014 certificate is awarded to the hotels with the best scores on the HolidayCheck portal, the largest independent travel portal in German-speaking countries. This year's awards have been granted to the hotels that received a good overall rating on HolidayCheck in May 2014.

---

2013 - TripAdvisor: Travellers' Choice
A recognition of the popularity of the resort in the world's largest travel site. The positive reviews from many travelers support its permanent presence in the "top ten" of Cuban hotels on TripAdvisor.

---

2010 - Thomas Cook: Environmental recognition
Territorial Environmental Award (RAT) 2010, accorded by CITMA-Ciego de Avila. This award is the first step towards revalidating the National Environmental Award granted in 2006, which the hotel intends to renew in 2011

---

2010 - Monarc: Monarc Award 2010
Prize awarded to the best hotel in Cayo Coco.

---

2010 - TRANSAT: TRANSAT Award 2010
TRANSAT Prize awarded to the hotel for the facility's collaboration in its Health & Safety Program.

---

2007 - Provincial Assembly of the People's Power in Ciego de Avila: Entrepreneurial Quality Award
Provincial Entrepreneurial Quality Prize, awarded by the Provincial People's Power for the Quality Results maintained during 2007.

---

2007 - Territorial Delegation of the Ministry of Science, Technology and Environment in Ciego de Avila: Provincial Environmental Award (Ciego de Avila)
Awarded by the territorial office of the Ministry of Science, Technology and Environment (CITMA) in recognition of the hotel's excellent environmental management.

---

2006 - Ministry of Science, Technology and Environment: National Environment Award in the category of Environmentally Responsible Tourism.
Awarded for complying with the environmental and sanitary regulations in effect in the country; for the implementation of an environmental diagnosis system with the necessary technical and methodological quality; for defining a policy, objectives, goals and an action program geared at the continuous improvement of its environmental actions and for maintaining an environmental monitoring system, in keeping with the activities carried out.

---