Paradisus Varadero Resort & Spa Hotel is a magnificent facility located in the beach in Rincon Francés, Varadero. In the midst of an extensive ecological reserve and decorated exclusively with tropical vegetation and bodies of water, this spectacular five-star eco-resort, is recognized as one of the best and most luxurious Ultra All Inclusive in the area. Designed with families in mind, it offers amazing attractions and amenities for the enjoyment of everyone, from the youngest to the elderly.
It has 510 rooms with very elegant exclusive luxury services. These are 344 Paradisus Junior Suite, 72 Paradisus Junior Suite with sea view, 48 Junior Suite with Royal Service, 26 Junior Suite with sea view and real service, 12 Familiy Junior Suite with sea view, 6 suites with Royal Service and 2 Garden Villa with Royal Service. Guests who bet on the Royal Service will not only enjoy a personalized and exclusive attention, but also be inserted directly into an environment of natural vegetation of this ecological reserve. Master Junior Suite rooms and Garden Villas have private pools and direct access to the beach. The hotel offers many services and facilities such as baby club and mini club, health and beauty center YHI SPA "Agua Marina" & Gym, 24 hours medical services, craft and gift shops. Similarly, from the Friends Club, offers a dynamic and varied program of activities for children and packages for families. Notable for its gastronomic quality services in each of its 8 restaurants and bars at its disposal, offers its guests the most exquisite international cuisine. It is also equipped with large halls and meeting rooms that have modern audiovisual technology.
Amongst lush tropical gardens with palm trees that make us feel caressed by the finest essence of unspoiled nature, excellent service in an atmosphere of elegance and refinement, and proposed extraordinary entertainment for the whole family, you discover this fascinating resort ideal for weddings, honeymoons, wellness / spa, travel incentives and families.
Opened in

2000

Renovated in

2011

5 rooms for guests with disabilities
Hours and Conditions
Check in

16:00 Hrs

Check out

12:00 Hrs

Conditions

Cancellation and penalties policy: For cancellations that are made with 4 days or less, before the arrival of the clients, the penalty of the 50% of the entire stay applies. This right will also apply to "No Shows" The entire stay is billed for short stays or early departures. In the case of applying a refund to the customer, the financial expenses associated with it, generally corresponding to 4.5% of the total value, will be deducted from the same.
Internal map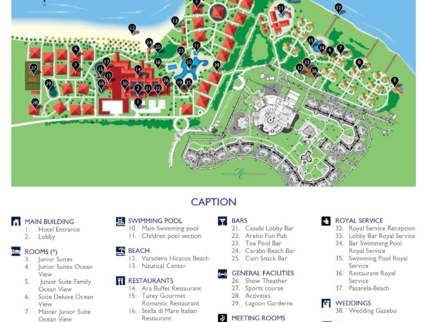 Services and Facilities
($) Services with additional charge
The Reserve Junior Suite

(View room facilities)

The Reserve One Bedroom Master Suite

(View room facilities)

The Reserve Two Bedroom Master Suite

(View room facilities)

ROYAL SERVICE GARDEN Villa

(View room facilities)

PARADISUS JUNIOR SUITE

344 rooms

40 m2 (View room facilities)

1 two-seater sofa
Room service 24 hour
Air Conditioning
Amenities in the bathroom
Amplifying Mirror
Armchairs
Balcony or Terrace
Bathrobes
Bathroom with bath/shower
Beach and pool towels
Bedroom
Bedside tables
Coffee and Tea Maker
Coffee tables
Cradle (on request)
Direct-dial telephone in the room
Electricity: 220 V/60 Hz
Extra bed (on request)
Handicapped facilities
Four-poster king-size or twin beds
Furnishings in the Balcony
Garden views
Hairdryer
Iron and board
LCD satellite TV/USB port
Lounge-bedroom
Minibar (restocked daily)
Non-smoking rooms
Bedside lamp
TV with remote control
Rooms cleaned daily
TV-minibar table
Umbrellas

×

PARADISUS JUNIOR SUITE SEA VIEW

72 rooms

40 m2 (View room facilities)

1 two-seater sofa
Room service 24 hour
Air Conditioning
Amenities in the bathroom
Amplifying Mirror
Armchairs
Balcony or Terrace
Bathrobes
Bathroom with bath/shower
Beach and pool towels
Bedroom
Bedside tables
Coffee and Tea Maker
Coffee tables
Cradle (on request)
Direct-dial telephone in the room
Electricity: 220 V/60 Hz
Extra bed (on request)
Four-poster king-size or twin beds
Hairdryer
Iron and board
LCD satellite TV/USB port
Lounge-bedroom
Minibar (restocked daily)
Non-smoking rooms
Bedside lamp
TV with remote control
Rooms cleaned daily
Sea views
TV-minibar table
Umbrellas

×

The Reserve Junior Suite Garden Swim-up

6 rooms

80 m2 (View room facilities)

1 two-seater sofa
Room service 24 hour
Air Conditioning
Amenities in the bathroom
Amplifying Mirror
Armchairs
Balcony or Terrace
Bathrobes
Bathroom with bath/shower
Beach and pool towels
Bedroom
Bedside tables
Coffee and Tea Maker
Coffee tables
Connecting rooms
Cradle (on request)
Direct-dial telephone in the room
Electricity: 220 V/60 Hz
Extra bed (on request)
Four-poster king-size or twin beds
Hairdryer
Iron and board
LCD satellite TV/USB port
Lounge-bedroom
Minibar (restocked daily)
Non-smoking rooms
Bedside lamp
TV with remote control
Rooms cleaned daily
Sea views
TV-minibar table
Umbrellas

×

ROYAL SERVICE Junior Suite Room

48 rooms

83 m2 (View room facilities)

1 two-seater sofa
24-hour room service
Air Conditioning
Amplifying Mirror
Armchairs
Balcony or Terrace
Bathrobe and slippers
Bathroom with bath/shower
Beach and pool towels
Towels for beach/pool in room
Bedroom
Bedside tables
CD / USB Player
Ceiling Fan
Coffee and Tea Maker
Coffee tables
Cradle (on request)
Direct-dial telephone in the room
Dressing closet
Electricity: 220 V/60 Hz
Extra bed (on request)
Farewell gift
Four-poster king-size beds
Garden views
Hairdryer
Hall
Iron and board
Late check-out to 16.00 hrs
LCD satellite TV/USB port
Lounge-bedroom
Luxury welcome cocktail
Minibar (restocked daily)
Non-smoking rooms
Personalised check-in
Bedside lamp
TV with remote control
Reservations in à la carte restaurants
Rooms cleaned daily
ROYAL SERVICE FLOOR Services & Facilities *
Special service in your stay
TV-minibar table
Umbrellas
VIP amenities(bath salts/candles)
VIP daily turndown service

×

ROYAL SERVICE SEA VIEW Junior Suite Room

26 rooms

83 m2 (View room facilities)

1 two-seater sofa
24-hour room service
Air Conditioning
Amplifying Mirror
Armchairs
Balcony or Terrace
Bathrobe and slippers
Bathroom with bath/shower
Towels for beach/pool in room
Bedroom
Bedside tables
CD / USB Player
Ceiling Fan
Coffee and Tea Maker
Coffee tables
Cradle (on request)
Direct-dial telephone in the room
Dressing closet
Electricity: 220 V/60 Hz
Extra bed (on request)
Farewell gift
Four-poster king-size beds
Hairdryer
Hall
Iron and board
Late check-out to 16.00 hrs
LCD satellite TV/USB port
Lounge-bedroom
Luxury welcome cocktail
Minibar (restocked daily)
Non-smoking rooms
Personalised check-in
Bedside lamp
TV with remote control
Reservations in à la carte restaurants
Rooms cleaned daily
ROYAL SERVICE FLOOR Services & Facilities *
Sea views
Special service in your stay
TV-minibar table
Umbrellas
VIP amenities(bath salts/candles)
VIP daily turndown service

×

---

Dining conditions

A variety of atmospheres and culinary options.
Unlimited alcoholic and non-alcoholic beverages.
Diet and vegetarian dishes (on request)
The menus and times of the restaurants and bars may be subject to change depending on the season and hotel occupancy.
Non-smoking areas.
Reservations and dress code (formal) for dinner in the specialist restaurants.
Wines at lunch and dinner.
Dinners, additional menu and live music in some restaurants.
Premium international drinks.
Lounger service on the beach and at the swimming pool.
24-hour room service.
Continental breakfast and tea time service.

2014 - TripAdvisor: Certificate of Excellence
Award for the hotel's hospitality and popularity on the world's largest travel website, granted for achieving the highest score from its clients on a regular basis.

---

2007 - Gulet Touristik (World of TUI): Hotel Award 2007
Selected among the 100 most popular hotels in the world.

---