The hotel provides a Breakfast Room and a Pool Bar for light snacks and refreshing drinks. Guests can also visit the excellent restaurants in the tourist plaza. Coral Lounge Bar, modern venue to share time with friends and enjoy food and drinks. Trattoria Italian Restaurant, specializing in Italian cuisine with a buffet and patio, two different ambiences decorated in wood and with Italian features. Asahi Japanese theme restaurant, beautiful, sophisticated and elegant restaurant with simple Japanese decoration, two different areas: the sushi bar with high chairs and the service area, which includes four tepanyaki tables. Bodegón del Centro Restaurant, to enjoy Cuban food in a casual and fun ambience, full of Cuban character, life and music. The decoration also includes traditional features presented in the most contemporary style.
The tourist plaza provides guests at Las Salinas with a great choice of leisure facilities. Las Olas Bowling, Space for sport and recreation; dynamic and fun environment. Atabey disco Nighttime in the destination brings your best memories. Good music and great offers. The disco can also host events and celebrations. Sun and Swiming, the hotel has an infinity pool and an extensive beach area, around 2 km long. The plaza also has a gallery of shops and the professional services of the Flor de Sal SPA
Opened in

2018

1 rooms for guests with disabilities
Hours and Conditions
Check in

16:00 Hrs

Check out

12:00 Hrs

Conditions

CLIENT GUARANTEES AND RIGHTS OF THE OPERATOR AND THE HOTEL WITH REGARDS TO RESERVATIONS, CANCELLATIONS AND NO SHOWS. - In the case of cancellations made less than 10 days before the arrival of the guests, the Hotel may bill, at its discretion, the Agency for the price of one night according to the plan booked. This also applies to "No Shows."
Internal map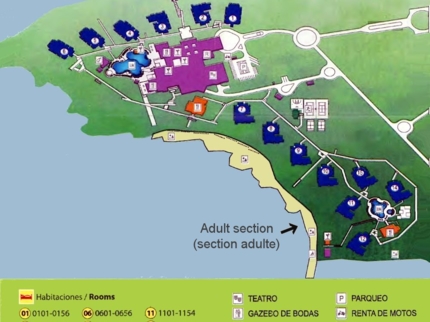 Services and Facilities
($) Services with additional charge
Fiesta Ocean View Room

37 m2 (View room facilities)

Fiesta Pool Acces Room

37 m2 (View room facilities)

Fiesta Garden View Room

37 m2 (View room facilities)

Air Conditioning
Closet
Daily amenities
Ocean views
Satellite TV
Sea views
Telephone
TV

×

---

Dining conditions

A variety of atmospheres and culinary options.
The menus and times of the restaurants and bars may be subject to change depending on the season and hotel occupancy.
Non-smoking areas.
Dress code (formal) in all restaurants.
The buffet service does not include beverages in the price.
Premium Brand Drinks.