This is an All Royal Service hotel. A special place for those who prefer privacy, seclusion, peace and quiet and fresh air. Hotel right by the sea, surrounded by 3 beaches and unspoiled coves.
Its broad stretch of white sand, its crystal-clear waters, lush vegetation and wide variety of native fauna are the reason for its deserved status as a Biosphere Reserve.
Opened in

2010

1 rooms for guests with disabilities
Hours and Conditions
Check in

14:00 Hrs

Check out

12:00 Hrs

Conditions

Cancellation and penalties policy: For cancellations that are made with 4 days or less, before the arrival of the clients, the penalty of the 50% of the entire stay applies. This right will also apply to "No Shows" The entire stay is billed for short stays or early departures. In the case of applying a refund to the customer, the financial expenses associated with it, generally corresponding to 4.5% of the total value, will be deducted from the same.
Internal map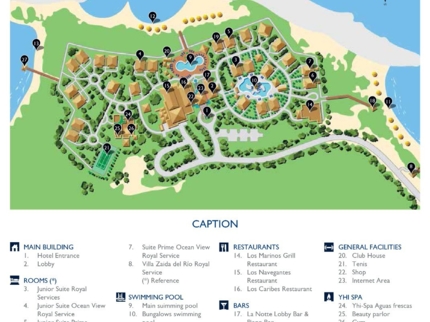 Services and Facilities
($) Services with additional charge
ROYAL SERVICE Zaida del Río Villa

1 room

70 m2 (View room facilities)

The Level Junior Suite Room

48 rooms

62 m2 (View room facilities)

1 two-seater sofa
2-seater sofa
Air Conditioning
Armchairs
Bathroom scales
Terrace with bathroom
Bathroom with bath/shower
Bedroom
Bedside tables
Blackout drapes
Breakfast table
Ceiling Fan
Coffee and Tea Maker
Coffee tables
Connecting rooms
Direct-dial telephone in the room
Dressing closet
Electricity: 220 V/60 Hz
Garden views
Hairdryer
Hot / Cold water (24 hours)
Iron and board
King-size or twin beds
Living area
Magnifying mirror
Minibar (restocked daily)
Non-smoking rooms
Outdoor Balinese shower
Pool views
Bedside lamp
TV with remote control
Romantic décor
Rooms cleaned daily
ROYAL SERVICE FLOOR Services & Facilities *
Toilet
TV-minibar table
Umbrellas

×

THE LEVEL SEA VIEW Junior Suite Room

26 rooms

62 m2 (View room facilities)

1 two-seater sofa
2-seater sofa
Air Conditioning
Amplifying Mirror
Armchairs
Bathroom scales
Terrace with bathroom
Bathroom with bath/shower
Bedroom
Bedside tables
Blackout drapes
Breakfast table
Ceiling Fan
Coffee and Tea Maker
Coffee tables
Direct-dial telephone in the room
Dressing closet
Electricity: 220 V/60 Hz
Hairdryer
Hot / Cold water (24 hours)
Iron and board
King-size or twin beds
Living area
Magnifying mirror
Minibar (restocked daily)
Outdoor Balinese shower
Bedside lamp
TV with remote control
Rooms cleaned daily
ROYAL SERVICE FLOOR Services & Facilities *
Sea views
Superior category bathroom
Toilet
TV-minibar table
Umbrellas

×

ROYAL SERVICE PRIME OCEAN VIEW Junior Suite Room

26 rooms

62 m2 (View room facilities)

1 two-seater sofa
2-seater sofa
Air Conditioning
Armchairs
Balinese shower
Bathrobe and slippers
Bathroom scales
Terrace with bathroom
Bathroom with bath/shower
Bedroom
Bedside tables
Blackout drapes
Breakfast table
Ceiling Fan
Coffee and Tea Maker
Coffee tables
Direct-dial telephone in the room
Dressing closet
Electricity: 220 V/60 Hz
Hairdryer
Hot / Cold water (24 hours)
Iron and board
King-size or twin beds
Magnifying mirror
Minibar (restocked daily)
Bedside lamp
TV with remote control
Rooms cleaned daily
ROYAL SERVICE FLOOR Services & Facilities *
Toilet
TV-minibar table
Umbrellas

×

ROYAL SERVICE ROMANCE Suite Room

2 rooms

107 m2 (View room facilities)

1 two-seater sofa
2 connecting spaces
2-seater sofa
Air Conditioning
Armchairs
Bathrobe and slippers
Bathroom scales
Terrace with bathroom
Bathroom with bath/shower
Bedroom
Bedside tables
Blackout drapes
Breakfast table
Ceiling Fan
Central table
Coffee and Tea Maker
Coffee tables
Connecting rooms
Direct-dial telephone in the room
Dressing closet
Electricity: 220 V/60 Hz
Bathroom
Hairdryer
Hot / Cold water (24 hours)
Iron and board
King Size Bed
Living-dining room
Loungers on the terrace
Magnifying mirror
Outdoor Balinese shower
Outdoor breakfast palapa
Bedside lamp
TV with remote control
Romantic décor
Rooms cleaned daily
ROYAL SERVICE FLOOR Services & Facilities *
Sea views
Superior category bathroom
Telephone
Terrace
Toilet
TV-minibar table
Umbrellas

×

ROYAL SERVICE PRIME OCEAN VIEW Suite Room

2 rooms

107 m2 (View room facilities)

1 two-seater sofa
2 connecting spaces
2-seater sofa
Air Conditioning
Armchairs
Balinese shower
Bathrobe and slippers
Bathroom scales
Terrace with bathroom
Bathroom with bath/shower
Bedroom
Bedside tables
Blackout drapes
Breakfast table
Ceiling Fan
Central table
Coffee and Tea Maker
Coffee tables
Direct-dial telephone in the room
Dressing closet
Electricity: 220 V/60 Hz
Bathroom
Hairdryer
Hot / Cold water (24 hours)
Iron and board
King Size Bed
Living-dining room
Magnifying mirror
Minibar (restocked daily)
Bedside lamp
TV with remote control
Romantic décor
Rooms cleaned daily
ROYAL SERVICE FLOOR Services & Facilities *
Sunrise views
Sunset views
Superior category bathroom
Telephone
Terrace
Toilet
TV-minibar table
Umbrellas

×

---

Dining conditions

A variety of atmospheres and culinary options.
Unlimited alcoholic and non-alcoholic beverages.
The menus and times of the restaurants and bars may be subject to change depending on the season and hotel occupancy.
Non-smoking area.
Reservations and dress code for dinner in the specialist restaurants.
Diet and vegetarian dishes (on request).
Live entertainment at some restaurants.
Continental breakfast and tea time service.

2014 - TripAdvisor: Certificate of Excellence
Award for the hotel's hospitality and popularity on the world's largest travel website, granted for achieving the highest score from its clients on a regular basis.

---